Feb. 28 (Day 3)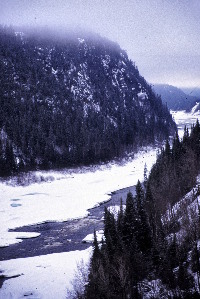 It's an early start this morning. We are departing on the QNS&L (Quebec North Shore & Labrador Railway) 'Express' (not sure where this moniker came from) to ride 531 km of rail north to our starting point, the Menihek Dam. Although the railway line starts Quebec, it runs a good portion of the way into deep Labrador before exiting back in Quebec. Our exact trip location is a series of lakes and valleys west of Menihek Lake, about 50km from the end of the line.
Wintertime northern Labrador sounds so romantic – images of trappers coming flooding across my mind. The train runs infrequently (twice a week?), and today is the northward journey. It's chaos at the train station, gear piled up on freight pallets being weighted and sorted for loading into box cars. The passenger cars are fully loaded as well since kids have a week off school and families are heading into bush camps to hunt. All seats are taken by sprawling arms, legs, bulky coats, overflowing plastic shopping bags, with exception of the smoking car. Our polite group scrambles awkwardly with such bald competition.
The train departs slowly, shunting out of the rail yard…about km 12, peek a boo views of a fantastic gorge line the west side of the tracks – must be the Moise river, running open, black waters foaming and wild. Ice flows dangle and swirl, pushed like bumper cars, jostling for space. I hang out between the cars to take a photo but hydro lines interfere. Thirty km upstream, the valley opens into broad tree lined valley with more gentle rolling slopes. The rail line eventually splits away from the river and the train is surrounded by boreal forest.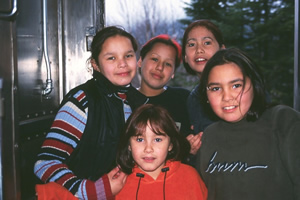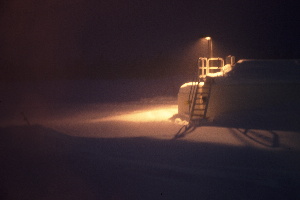 People are getting dropped off the train in small family groups. Met by snowmobiles, they disappear into wood cabins belching smoke from rusted chimneys. The trees change more to black spruce from deciduous trees, the wind also changes, swinging from south to the north. Its cold and blowing, gray and over cast outside. The train has 'lost power' according to the conductor and 'must go backwards' at Ross Bay Junction. However, we wait for 60 minutes not moving at all – its dark and I fall asleep.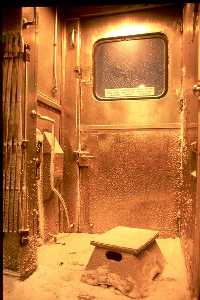 Later, snow encrusted men stamp board the train, stamping their feet of excess snow and calling laughing loud to their friends. I wake and unabashedly listen, vainly trying to understand with long forgotten high school French. The train regains forward motion with odd lurches and bumps, the snowplow on the front of the engine breaking through snowdrifts on the tracks. At midnight, we still haven't reached Menihek. The sky has cleared, a full moon looks over the developing ground blizzard. Finally, we arrive at 2:15am! The supposedly 10 hour trip has taken about 17 hours to cover a distance of 531 km (330 miles)…
Upon disembarking I'm immediately cold, the wind cutting through my 'arctic' parka. Its only 500 M to the house and I'm chilled to the bone. How am I going to survive the next 2 weeks? Most head immediately for bed, the floor but I'm too wired to sleep. Donning all layers I brought, I return outside with the camera until 3am just to watch and listen to the wind howl. To a southern city gal, it's hard to believe that we are going to be tenting for 2 weeks in this vicious extreme environment. I question what am I doing here.