Mar. 2 (Day 5)
We load and lace toboggans under gentle breeze, blue sky and –28C. There are 9 of us and we will each have to pull a toboggan loaded with food boxes, 2 light weight titanium stoves, green army duffle bags of personal items, axes, saws, kitchen stuff, two tents and so on. Each toboggan weights about 120 lbs of which about ½ is food. I learn later that there is about 3 lbs of food per person per day. With 9 people, that's 27 lbs a day for 14 days it amounts to an astonishing 378 lbs! (or 42 lbs per person). Everyone pitches into secure the loads by wrap up the toboggans with the tarps. By 10am after the requisite group photo we are off!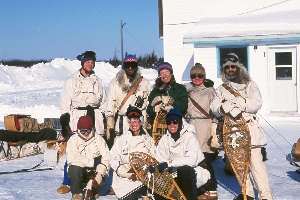 My sled pulls easily, following the tumpline that is worn across the shoulders or over/under the armpit. Stop to put on balaclava and down vest….eventually warm up enough while walking. The wind bites into my face, we are heading across Lake Menihek, a thin (6 km by 80 km!) sliver of frozen ice. Half way across the lake, we stop for lunch, spreading the checked tablecloth for our winter picnic. How quaint! How warming! How practical! As it keeps everything from falling under the deep snow. As assortment of salami's, cheese, crackers, peanut and almond butters, cookies and squares lay before us. Mostly I'm thirsty, eagerly holding my mug out for a steaming cup of tea (kept warm in thermos filled at breakfast). Taking off our snowshoes, we punch our feet deep into the snow that acts as an insulator. At –18C after 30 minutes, I'm getting chilled and its time to roll off again.
As we exit the shelter of the treed island, the wind again bites into my cheeks. The body warms up quickly but not to the point of sweating. By shifting positions of the tumpline, nothing gets overtly fatigued. The hauling is on level ground (frozen lake) thus easy. The west bank of Menihek Lake is lined with rolling hills that glitter bald above the tree line. We reach the campsite by 2:30pm….first job is to pack down the site. Some people tramp around, flattening the snow into a level hard packed area where the tent will be set up. Others unload the toboggans, sorting boxes and gear into piles. Others saw wood: only Garrett, Alexandra and Leif are permitted to use the axes.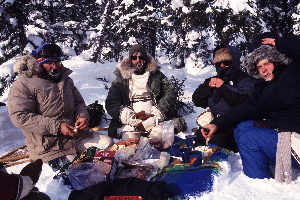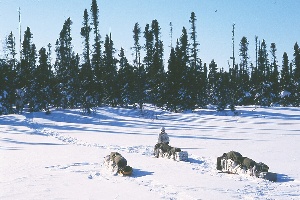 There are two tents, each measuring 10 x 12. I'm surprised to learn that there is no floor. Instead, the rear of the interior will be covered with a plastic ground sheet, then our sleeping mats (everyone has those inflatable thermorests). Snow is piled loosely along the outer edges. This keeps the wind from blowing up under and thus a floor is not needed. A small pit is dug out just at the door entrance (closed by ties only, another surprise, no zips!) where boots and outer footwear will be removed. A wood-burning stove is set up on log 'floats' to prevent the stove from settling down as it melts the surrounding snow. Wood pickets line about 3 – 4' high line the interior wall adjacent to the stove – in a catastrophic event, the pickets would supposedly support the weight of the tent long enough so that people trapped inside could crawl out the front door (tent wall sides are frozen down with piled snow).
Our first dinner is spaghetti with meat sauce and cheesecake for desert. What a luxury, desert! Something I never bother with on canoe trips but enjoy when someone else goes to the trouble of packing, making, and baking. Everyone is in bed by 9pm…there are 5 in our tent and the snorers are in the other tent…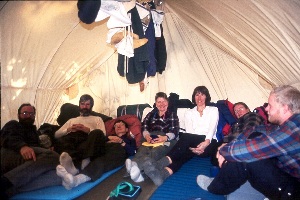 A few hazy stars with no northern lights tonight. The wind is calm, ptarmigan tracks criss cross the woods, running from tree to tree and under willow shrubs. Garret says that the inside tent temperature usually falls to ½ the outside temperature…thus it's –30C outside, should be only –15C inside. I don't check with my weather station. Hopefully my double summer bag system will be sufficient. Have to inflate thermorest a second time due to cold.